Probably the most impressive thing about At Home Alone Together is that it exists at all. A rapidly thrown-together reaction to Australia's comedy crisis – uh, coronavirus crisis – it was largely filmed in the presenters own homes using minimal camera equipment… so yeah, if you've ever wanted to check out the inside of Ray Martin's house then now is your big chance to seek professional help.
As for the show itself, it's a lifestyle parody show, which is a genre that died somewhere between the third and fourth series of LIfe Support a couple decades ago. Having Ray Martin as host seems like it should be funny until you remember that Ray hasn't had a high profile gig in a decade and never really had the cheesy charm of your Ian Turpies or Baby John Burgesses. A natural comedian he is not, unless he's having a go at John Safran for going through his bins.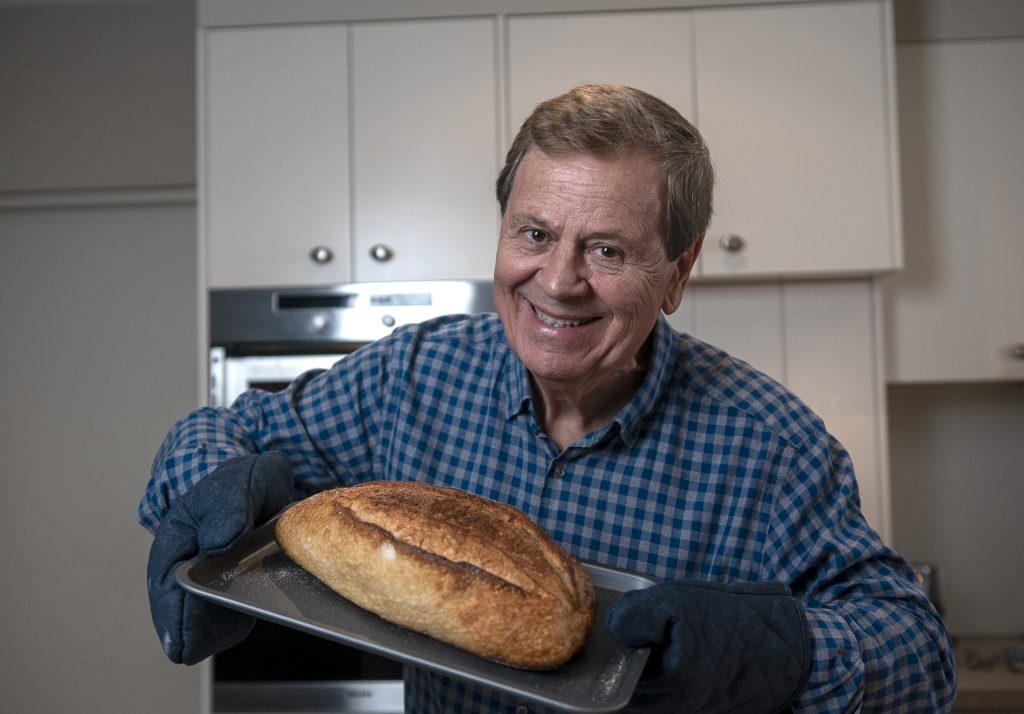 But on a night when The Weekly seemed to suddenly remember that its remit is to be as unfunny as humanly possible – quick, stick a sports jacket on Charlie Pickering and play loud distracting background music under both of his seemingly endless "news-in-review" segments – having something on the ABC that was actually trying to be funny was something of a relief. Remember when Julia Zemiro's Road Trip was all about comedians? You won't when it returns next week.
Being made up of a bunch of sketches recorded individually by comedians under lockdown, At Home Alone Together was always going to be hit and miss. The weird thing was that the two weakest sketches – Harry Potter sex play and turning your bathroom into a sauna – were put up the front. And that fake non-ad for Bleach was a bit of a head-scratcher until it became obvious what it was referring to, which was a news story that by 2020 standards took place a thousand years ago. In the age of twitter, topicality is not your friend unless you're very, very funny.
Surprisingly though, by the end the good largely outweighed the bad. Craig Reucassel's bins full of bottles was a good solid laugh that didn't outstay its welcome, that fake ad for the Adelaide Wet Market filled with cheap toast was weird enough to be a decent palate cleanser, and Helen Bidou having yet another meltdown while putting out a bizarre song was everything you want from Anne Edmonds.
We've been fans of Ryan Shelton's sketch work since his Rove days and presumably he's doing just fine working behind the scenes with Hamish & Andy but his appearance here really did make us wonder why he's not doing more front-of-camera work. Caution: the next paragraph or two is going to get even more wanky than usual.
The appeal of the lifestyle parody is that lifestyle show segments already have a plot – you start out trying to make or do something and by the end you achieve it. As most Australian sketches are basically just someone coming up with a funny idea then doing that over and over until it stops being funny then coming back with the exact same idea for the next six weeks, it's easy to see the appeal of a format where the story work is done for you.
Most of the segments here didn't really do much with that: Harry Potter sex fantasy had one twist – the dude was more into Potter than sex – while the sauna one didn't even have that and the bit about making soup out of weeds went exactly where it was always obvious it was going to go.. Bidou was just a performance piece with the side joke of her son getting pissed off, but when you can perform like Edmonds that's plenty.
Shelton though, not only had the joke that he was crap at handiwork so he'd got in his twin brother Jase to help, but then had Jase be everyone's nightmare sibling before the segment somehow degenerated into a hammer toss with a dick pic as the prize, followed by the dick pic being blurred out and Shelton coming up with a truly pathetic excuse for losing. Comedy is subjective and if you found Ray Martin's soapy pockets hilarious more power to you (okay, the bit where he accidentally used them next to the sink was good), but when it comes to sketch work Shelton remains the one to beat.
Whether it's lack of oversight from the corporate bigwigs or the idea that maybe now might be a good time to make people laugh, having a comedy series on the air that's clearly putting being funny first is a refreshing change from the majority of ABC output. It's too hit and miss to be any kind of classic, and chances are next week will reveal that this week's jokes are in fact the only jokes this series will be offering over its eight week run, but for now it's the best local comedy on the ABC.
Still, it's a shame about Ray.