After its strong showing in the most recent Tumblies, we figured it was time we checked back in on Hughesy, We Have a Problem. Yeah, thanks for that. Much appreciated.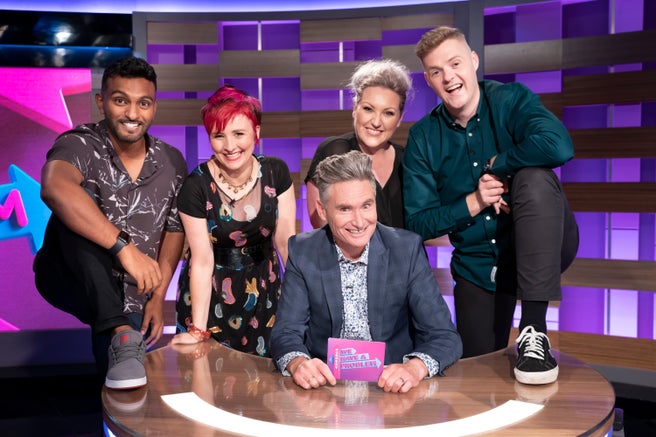 Two things immediately come to mind:
1): Do Hughsey and Wil Anderson go to the same barber, and if so, why?
2): Who thought turning a drive radio call-in segment into an hour-long show was a good idea?
Yeah, we know that this is basically a more diverse version of the old Beauty and the Beast format, but watching this week's episode – which, as is often the case with this show, had a reasonable cast: Tom Ballard, Nazeem Hussain, Cal Wilson and Meshel Laurie – it really was obvious that this is just a radio call in show with pictures. Pictures that don't add much unless you're a big fan of Hughsey chortling away. Which is still better than the way he delivers his lines like he's shouting in a wind tunnel.
That's not to say radio call-ins don't have their charms, what with them being massively popular all over the world, and this does manage to mix it up a little. There's a mystery celebrity guest, video questions, someone from the audience comes up to discuss their problem (this week: my pick-up game is weak, let's do some role-play, Tom Ballard says "poofta juice"), there's banter, more banter, a third round of banter…
The original Beauty and the Beast could be a pretty snarky show at times, and with a regular cast there was plenty of scope for bitchiness and character comedy. This doesn't have much of that – apart from a fairly consistent hanging of shit on Hughsey, which we're all on board for. Instead we get the usual battle of the guests trying to out-funny each other, which usually means there's four people trying to do basically the same thing and results in a show that's both exhausting and somehow boring at the same time. This kind of show used to be filed under "variety", and a bit more variety comedy-wise wouldn't hurt here.
This is pretty much the polar opposite of Have You Been Paying Attention? It's a more relaxed format, the guests get to chat away, Hughsie is… inexplicably popular, and this week at least everyone got in a few cracks about his obscene wealth and him murdering one of his tenants who didn't pay rent on time. Anything that shifts the narrative from "Hughsey, knockabout average Aussie" to "Hughsey, extremely rich man who could buy and sell you in a heartbeat" is fine with us.
As is this show in general, if we're being honest. It's established enough now to attract decent panelists – Judith Lucy and Shaun Micallef were on last week – and while nobody's letting rip with the classic gags they're generally strong enough to leave the show feeling like actual comedy and not something Rove might host.
Let's not get carried away with the praise though either: this could still easily lose ten minutes or so, even if it's hardly a show you're going to give your attention to for the full hour. If you're not watching this looking down at your phone then you're not doing it right; maybe radio with pictures really is the future of television.