Ok, The (AFL) Footy Show has got the axe, and not a minute too soon. So why should we care?
Well, some of the seemingly endless articles looking back over the history of Nine's The Footy Show – and who doesn't remember the best running gag in Logies history where the much less popular NRL Footy Show beat it for the Logie for Most Popular Sports Program ten times in 13 years since 2005 – have pointed out that it was in many ways a retread of televised pie-nights like League Teams and World of Sport, and that it's this tradition (revived by Seven's all-conquering The Front Bar) that has led to the Footy Show's demise.
This kind of makes sense, suggesting as it does that Australia (well, the AFL parts of it at least) will always like a show where loveable knockabout larrikins sit around talking sport-related shit, and that The Footy Show failed because it lost sight of that. The thing is, this isn't strictly true.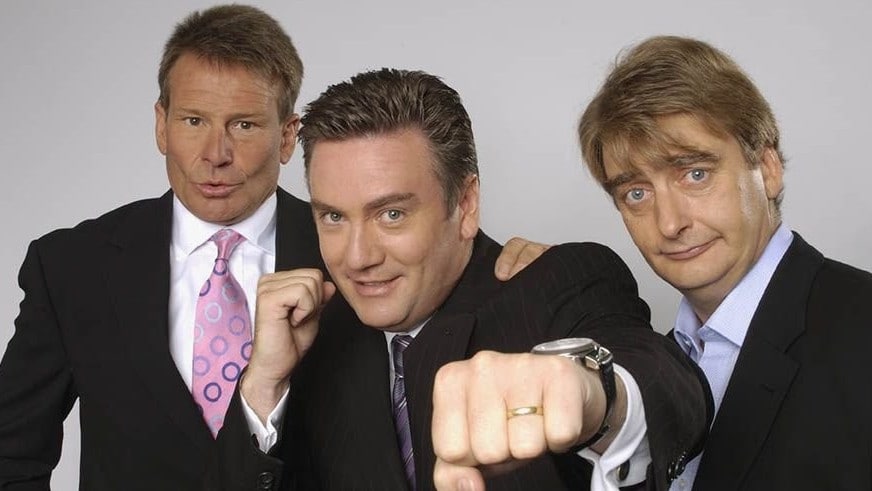 Yes, when The Footy Show began, a large chunk of it was basically re-heated World of Sport banter where footy players past and (unusually for the time) present talked about the game like it was meant to be a bit of a laugh. But there were two elements present that previous sports shows had lacked: Sam Newman rapidly went from elder sport statesman to fully fledged media prankster, and Trevor Marmalade was funny.
These days Trevor Marmalade doesn't get mentioned all that much in Footy Show history, but in the first decade or so of the show he was the one getting the big laughs. A seasoned comedy professional best known to the public for popping up on Hey Hey It's Saturday, he was often mentioned behind the scenes as a kind of comedy technician, someone who helped shows and performers fine tune their act.
Whether you gave a shit about AFL or not, whenever host Eddie McGuire would throw to "Trev" over behind Trev's Bar, you know you were going to get a rock-solid joke. Marmalade took the show's comedy up a notch, lifting the long stretches of fairly average banter into something worth watching if you were after a laugh – and on Australian television in the late 90s, there was enough local comedy going around that viewers could afford to be choosy.
In contrast, Sam Newman got laughs and attention by becoming a larger-than-life figure, which is a nice way of saying he did pretty much whatever it took to make sure the spotlight stayed on him. This mostly involved being a professional dickhead both in the studio and out of the street, encouraging his audience to laugh at his chosen victims in pretty much the same way as a bully does. Okay, exactly the same way as a bully does.
For a while there, the tension between the two forms of comedy – well, comedy and "comedy" – worked. Not only did the mix provide something for most viewers, but Marmalade's jokes took the harsh edge off Newman's antics and Newman's stunts made Marmalade's fairly traditional jokes seem a bit more edgy. Throw in some increasingly polished footy banter from a bunch of players with personality and Channel Nine had an across the board winner.
Pop quiz: in any large organisation, when an arrogant loud-mouth glory-hog bumps up against a quietly competent professional, who do you think management is going to side with?
FOOTY Show funnyman Trevor Marmalade has been axed by Channel 9.

Marmalade leaves after 15 years with the high-rating show.

The shock departure comes as Nine moves to freshen up AFL version of The Footy Show after another turbulent year.

Just-retired Hawthorn champ Shane Crawford and buffoon Billy Brownless will play bigger roles next year and new segments will be introduced.

Marmalade's "behind the bar" role will go.

It is believed Marmalade was no longer considered important to the show.
Meanwhile, in that same Year of Our Lord 2008:
Resident clown Sam Newman was never far from the headlines. He was condemned for a controversial sketch in which he manhandled a mannequin dressed to resemble football journalist Caroline Wilson.

Newman had surgery for prostate cancer and a shoulder injury, then spent three months on crutches after dropping a gym weight on his ankle and shattering the bone.

He also apologised after causing a storm over perceived crude remarks about Tasmanian MP Paula Wriedt. Newman signed a new long-term, multi-million dollar deal with Nine in October.
And by any reasonable standard it was all downhill from there. The rot had obviously set in well before that – increasingly The Footy Show had become The Sam Newman Show, and Sam's act on The Footy Show was largely split between roaming the streets calling people dickheads and reading out letters where he could call the writers dickheads – but this was as clear a sign as any that the show had chosen its path and while the pie night banter might still get a look-in, actual comedy was "no longer considered important to the show".
Which was a little odd, considering the closest thing they had to a rival – Ten's Before the Game – was pulling viewers because of comedy. Peter Helliar's footy character Straunchie was a hit; Dave Hughes was a regular (years later he'd later turn up on The Footy Show once they realised they needed someone there who could actually tell a joke). When Helliar left, Mick Molloy – who'd previously been hosting sports show Any Given Sunday on Nine alongside doing some actual legit sports commentary – stepped in, then when Before the Game was axed he went to Seven for Saturday Night Football and finally The Front Bar.
But The Footy Show wasn't interested in actual comedy – when Dave Hughes jumped ship after little over a year to go back to Ten for Hughsey We Have a Problem, he wasn't replaced. They'd already doubled down and bet the house on their "personality" based-programming: if you enjoyed Sam Newman, Billy Brownless was basically Sam Jr., and behind him the rest of the cast were waiting to have a go at talking loud and saying nothing. This year's attempt to reboot the format without Newman was dead out of the gate; everyone who didn't like his stunts was already long gone.
Literally every other mainstream (AFL) footy show since the launch of The (AFL) Footy Show has gone with comedians somewhere in the mix. It's not hard to do: plenty of comedians want to crack jokes about the footy. It's only The Footy Show that made a conscious decision that they didn't have room for professional comedians. It – and by that we mean Sam Newman, as by 2008 the entire show was basically built around him – was too big for that. And now it's been axed.
Good riddance.