Almost two years after the untimely death of John Clarke, his long-time comedy partner Bryan Dawe is back doing a weekly satire segment on ABC radio as Sir Murray Rivers.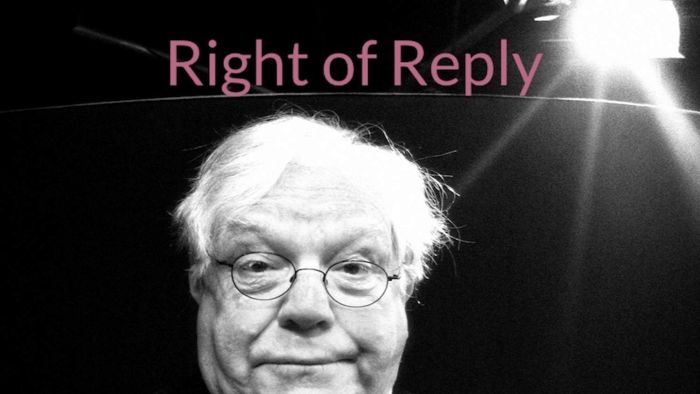 For many years, Dawe has been popping up on ABC Radio in the guise of Sir Murray Rivers, retired QC and stalwart of the Liberal party, but now his appearances are a weekly thing. The Overnights program is where you can hear Sir Murray's Right of Reply live, or all the segments are available to download on the ABC website (search for Sir Murray Rivers for a list of them, as annoyingly they're not all collated on one webpage).
Sir Murray Rivers won't be to everyone's taste – he's a member of the Melbourne Club, who slurs his reactionary views into a tape recorder in between gulps of something decent from said Club's cellar – and to describe him as "born to rule" would barely scratch the surface, but he's an interesting voice to hear never the less.
Put it this way, if you're old enough to remember the 1999 Republic Referendum then Rivers was the sort of well-heeled chap who'd appear in TV debates as a spokesman (and they were almost all men) for Australians for a Constitutional Monarchy. He'd be the one saying what a "splendid woman" The Queen is. And that would be his entire argument for not voting for a republic.
It was hard to believe that such posho anachronisms hadn't been parachuted in from an aristocratic fox hunt somewhere in England, let alone that they were Australian-born and lived among us, but they were. Oh yes. And they're still here, occupying wing-back chairs in inner-city members clubs, sitting on the boards of some of this country's most profitable enterprises, and discretely pulling the levers of the Liberal Party in their own self-interests. They are the literal equivalent of Labor's faceless men, except that no one in the media ever seems to mention them. Presumably, because they own most it.
But if you want to know what they're up to, Right of Reply will tell you. In Sir Murray's missives so far, we've heard about his work at the Centre for the Retention of the Monarch and on the United Nations Year of the Inside Trader. Plus, he's got views on the environment and Malcolm Turnbull, and some tips on tax avoidance and investment opportunities.
Right of Reply is a different style of satire to Clarke & Dawe – more in the mould of Barry Humphries' Sir Les Patterson – but it's every bit as cutting.