Just over two years ago we lost John Clarke, if not the greatest satirist the Southern Hemisphere has ever produced then certainly in the top two. Clarke was best known for writing and starring in the sitcom The Games and for his weekly sketches with Bryan Dawe, but he did an awful lot of other great things too.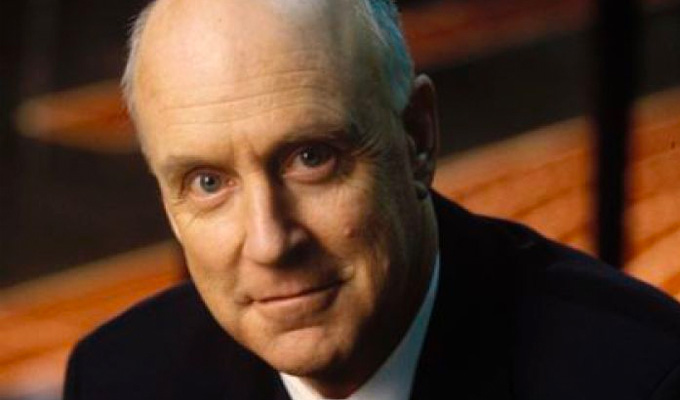 One near-forgotten Clarke classic is A Royal Commission into the Australian Economy, a satire on the economic recession of the late 80's/early 90's, written by Clarke with his The Games co-writer Ross Stevenson. A Royal Commission… was originally a stage production presented at the Belvoir Street Theatre and the Melbourne International Comedy Festival in 1991; it was then made into a TV show for Seven in 1993 starring some of the cast of Fast Forward.
With its in-depth, thoroughly researched and highly critical satirical analysis of government policy, the public service and business practices, A Royal Commission… is a world away from Seven's typical comedy fare of the era. Sure, Fast Forward poked a bit of fun at the collapses of various banks and big corporations, and the then Labor government, but it tended to do so through the prism of pop culture parodies, like its version of Star Trek starring Bob Hawke and Paul Keating.
Other Seven comedies of the era, such as Acropolis Now, raised most of their laughs through crude stereotypes. Acropolis Now seemed like a revolutionary comedy, "holding up a mirror to multicultural society" as The Late Show laughingly put it, but it was more a re-working of Kingswood Country, Seven's early 80's family hit sitcom which featured a lot of gags about the Greek son-in-law (played by Lex Marinos). The re-working being that in Acropolis Now, the Greeks did the same Greek jokes but about themselves.
Comedy on commercial television in the early 90's wasn't exactly intellectual. Unless, of course, you tuned into A Current Affair on a Friday to see John Clarke and Bryan Dawe's weekly sketch. You never saw Clarke & Dawe in Nine's yearly network promo "Still the One!" but they were hugely popular and were a weekly feature on A Current Affair for eight years.
Even so, the idea of bringing a show like A Royal Commission into the Australian Economy to Seven would have been a bit daunting, hence the association with Fast Forward, the hugely popular sketch show starring Magda Szubanski, Jane Turner, Gina Reilly, Marg Downey, Michael Veitch, Steve Blackburn, Geoff Brooks, Gerry Connolly and Glenn Robbins, amongst others.
It's also notable that A Royal Commission into the Australian Economy aired just eight days before Seven's new sketch comedy series and successor to Fast Forward, Full Frontal began. Conceived when the Fast Forward team decided to disband after four exhausting years, Full Frontal featured a cast dominated by newer, slightly younger, and less well-known people, including Eric Bana, Greg Fleet, Matt Parkinson and a New Zealander called Rima Te Wiata.
The first series of the show is notable for being a sort of long, slow handover from the old Fast Forward cast to the new Full Frontal cast, with promotional material highlighting the fact that Fast Forward favourites like Michael Veitch and Marg Downey would be making cameo appearances.
This made a lot of sense: the Fast Forward brand was huge in the early 90's and people would tune in to see the Fast Forward cast in just about anything. No wonder Seven marketed A Royal Commission into the Australian Economy as Fast Forward presents… A Royal Commission into the Australian Economy – the mere mention of Fast Forward was guaranteed to add hundreds of thousands to the viewing audience.
And, so, the mock trial that is A Royal Commission into the Australian Economy was chaired by Dame Victoria Market (Marg Downey), with Jane Turner as the Clerk, Glenn Robbins as a police constable, and Magda Szubanski, Gerry Connolly, Michael Veitch, Geoff Brooks and Steve Blackburn as various witnesses. And Gina Reilly outside the court reporting as Peter Harvey…Canberra. All of whom are great in it, by the way. The commercial reality of the need to associating this show with Fast Forward is one thing, but Fast Forward wouldn't have become the powerhouse it became without its brilliant cast.
Magda Szubanski, for example, plays not only a minor Treasury official (male) and a courtroom cleaning lady, but also ACTU Secretary Bill Kelty (a man noted for his mad curly hair and distinctive Scottish-ish accent). Also in drag are Jane Turner as Laurie Oakes and Gina Reilly as Peter Harvey. Plus, Glenn Robbins plays President George Bush (senior), John Hewson and Derryn Hinch, Michael Veitch is both Paul Keating and Alan Bond – two rather different personalities – and Gerry Connolly pops up variously as Bob Hawke, The Queen, Prince Charles and, most brilliantly of all, Geoffrey Robertson.
If you're familiar with Monty Python's courtroom sketches, where literally anything can happen, this is what's going on here. Only Frank Gallacher (All The Rivers Run, Cluedo and, later, Tangle) as Malcolm Turnbull (yes, the future Prime Minister but then high-profile lawyer Malcolm Turnbull) gives this any kind of reality.
And real it is, even with its ludicrous ending. Almost 30 years on, we've forgotten the impact of late 90s recession and many of those associated with it, but it was the Donald Trump or Brexit of its day, something which dominated the news, dragged on for months and years, changed the status quo and ruined a lot of lives. If you're too young to remember it, lucky you, but if you lived through it and remember the key players, this is very much worth taking a trip down memory lane for.