Ryan Shelton's Instagram serial Cliff returned for a third series last month and featured a whole bunch of celebrity guest stars.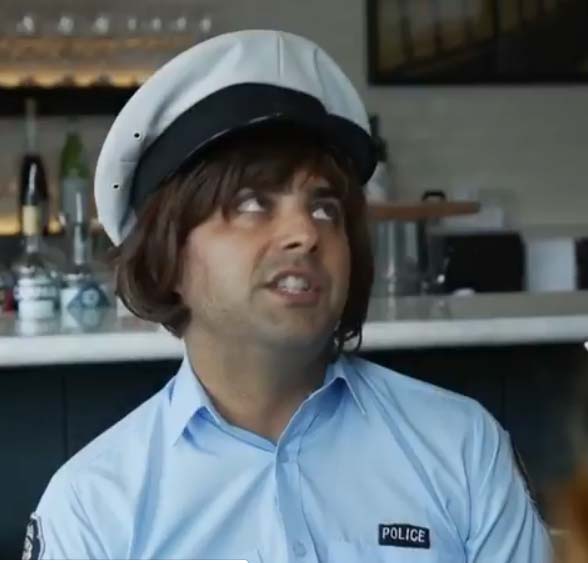 In previous series, Shelton has played all or most of the roles – the show's "hero" Cliff Schnitzel and Cliff's on-again/off-again partner Rebrecca – but in this police-themed series there were appearances from Luke McGregor as a Desk Sergeant, Heidi Arena as The Chief, Clarke Richards as a waiter and Shelton (again) as hard-nosed detective Bobby Pong.
And character names like Bobby Pong weren't the sum-total of the gags. Oh, no. Cliff 3 features silly wigs, over-the-top acting, and several dreadful puns. Basically, if you're after a quick, uncomplicated laugh, you're unlikely to find better on Instagram.
But why Instagram? Do Instagram users, who seem to mainly be interested in fashion, clean eating, hot bodies and Khardasians, want a very silly sitcom? We suspect that's not really the point.
When Ryan Shelton started making Cliff, Instagram only allowed users to upload up to 15 seconds of video, and it seems that Cliff was a way for Shelton to experiment within the restrictions of the medium. But now that the maximum length of a video on Instagram is 60 seconds, what's been the impact?
The short answer is not much, as most of the episodes run for about 15 seconds anyway. Which is probably a good thing because this is a show that would struggle to sustain itself if it went on for much longer.
Remember Danger 5? The parody of 1960s spy movies that for some unknown reason got 12 half-hour episodes and a whole heap of praise as a comedy? Its problem was that it barely had enough jokes about the 1960s spy movie genre to make one decent half hour of comedy, let alone 12. So, we're glad that Ryan Shelton has had the good sense to confine Cliff to a small number of episodes on a platform where video content has to be short.
Imagine if each episode of Cliff went for half an hour? Or even 10 minutes. It would exhaust the audience with its relentless, trad gags, and, basically, become really, really annoying.
Understanding how to use the medium you're working in, to your advantage, is the key difference between a comedy firing and not firing. And on Instagram, Cliff fires.