TV Blackbox ran this exclusive the other day:
TV Blackbox can exclusively reveal the Peter Helliar and Lisa McCune fronted comedy How To Stay Married will be back for a second season. Although 10 have made no official announcement as yet, close colleagues and friends say Helliar is back in pre-production and has begun writing new episodes to screen later this year.

Sources confirm the writing process has begun but shooting is a long way off.
And in related news, from the same article:
How to Stay Married is an off shoot of the 2013/ 014 ABC comedy It's a Date, written and directed by Helliar. Although there are currently no plans to return the show into production, there are hints this might happen in the future as TV Blackbox can exclusively reveal Network Ten has acquired the rights to all 16 episodes of the original ABC series.

It's a Date is set to screen on the channels of Network Ten later this year.
And if any of that's true (and the key phrase may well turn out to be "10 have made no official announcement as yet") that's 10 really investing in Peter Helliar…for some reason. And investing in a sitcom which didn't go as well as they'd hoped. From the same article again:
Ratings across the series started strong but subsequent episodes levelled out below 300 000 viewers.
Wow. That's almost Sando-level ratings.
Still, hard to argue that the public wasn't right to desert the show. How To Stay Married wasn't exactly hilarious. It had the potential to be, in that it contained a wide variety of weird and interesting supporting characters who ended up in potentially amusing situations, but it never seemed to click.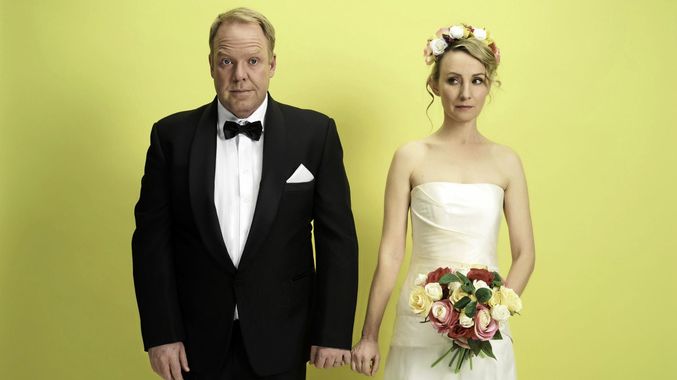 Giving most of the screen time to two of the most boring characters in the history of Australian sitcom – Peter Helliar and Lisa McCune as ordinary suburban husband and wife Greg and Em – probably had something to do with it. Sure, taking inspiration from everyday life is a good tip for any writer, but we're struggling to think of a successful sitcom that hasn't embellished an everyday character with at least the ability to utter a funny line occasionally.
As for buying up episodes of It's a Date to screen later in the year, well, in the world of multichannel you need a constant churn of content and buying something that contains a network star and inspired a network sitcom isn't the worst idea ever. Although cutting bits of it out to fit ads in – something 10 has had to do to sitcoms every time it's bought them from non-commercial networks – is something we don't approve of (even if it's Sando, we want to see the full thing or nothing. Mainly nothing).
We get that this is part of a strategic push by 10 to get into comedy in a serious way – something they're doing by greenlighting a bunch of shows from last year's Pilot Week – but as ABC Comedy found, getting into comedy in a serious way either requires you to spend a lot of money on making comedy or to try and get away with filling up most of the schedule with repeats of old shows. And if the latter's your plan, you run a serious risk of the public concluding that you aren't serious about getting into comedy at all.