All Aussie Adventures is about as unfashionable a comedy as comedy currently gets. Despite star Russel Coight's constant blathering on about conservation and helping out farmers and struggling regular folk, there's no real political angle here: everything he says and does is completely centered on himself. So if you really wanted to stretch a point, you could argue that AAA is really about a hapless, blatantly incompetent fool looking to exploit elements of Australian mythology for his own personal gain. Is this the most savage take-down of self-serving Australian elites in recent years? Maybe.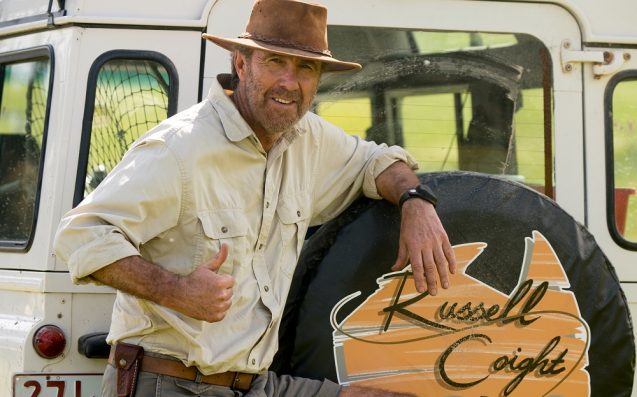 Or, you know, it could just be a comedy about a guy who wrecks everything he touches.
All Aussie Adventures is a kind of physical comedy rarely seen on Australian screens. It's closer to a Road Runner cartoon or Charlie Chaplin short than something like Kath & Kim. And Coight himself is a clown in the truest sense of the word: most of the wacky pranks might take place in the edit – there's an awful lot of scenes where the camera falls over or is forced to cut away, only to come back to reveal Coight is now hanging off a forklift truck or has just knocked down a wall – but the jokes are physical none the less.
In the two episodes that made up the final one hour special the first had a run of segments involving Coight's niece, who he was bringing out to the bush in the hope of exploiting her 500 Instagram followers. The jokes that followed could have appeared anywhere; when Coight attaches a blow-up mattress to anything, you know it's going to explode. The second episode felt like a collection of isolated scenes they couldn't fit in anywhere else: there were at least three separate segments set on various stretches of water, but in between each one the show cut to a totally unrelated segment set on dry land. And yet the jokes were as strong as any seen in the rest of the series… which isn't really that surprising as the series only really had a handful of jokes, which were:
a): After an extended set-up, Coight wrecks everything.
b): The voiceover is not great ("one mistake can be fatal or worse – deadly").
c): Coight's not good with other humans (ie, trying to get a depressed farmer to admit the rains are good news even as they're drowning his crops).
Sure, "wrecking everything" can range from accidentally knocking down walls to stepping on frogs to being attacked by a drone to being attacked by a drone tractor to having a trap crush his hand to not catching any fish because his fishing buddy is depressed over the end of his marriage, but it's basically the same joke.
Fortunately it's a pretty good joke, and Glenn Robbins as Coight is excellent at selling Coight's mix of bluster and flailing about. He's Australia's Alan Partridge, only there's never been any real effort to deepen the character (a few one-joke references to his earlier media career aside) – maybe because Partridge got there first, maybe because all the fun of Coight is that he's basically an indestructible cartoon character who is reset at the end of every scene. He's killed so many native animals it's a wonder he's allowed on Crown Land and he's a total menace to life, limb and property; no wonder they had to wait 15 years between the second series and this one.
But while this third series was still more of a pretty good thing, there's only so far you can take one joke. And a fourth series seems unlikely anyway, what with the lengthy production time (this was originally meant to be broadcast in 2017) and the somewhat, uh, repetitive nature of the jokes. Plus Ten seems to be going in yet another "exciting" new direction for 2019:
A few years ago, the prospect of wall-to-wall reality TV seemed inevitable; a genre destined to swallow all others. Which makes Network Ten's embrace of classic entertainment programming a surprise.

In 2019, Ten will revive Dancing with the Stars – axed by Seven in 2016 – and launch Sunday Night Takeaway, based on a hit UK variety series. A local version of Celebrity Name Game, adapted from a US format, is also in the works.
Dancing with the Coight, anyone?