Australia doesn't have a great history of making sitcoms with gay characters; Please Like Me and Outland are the only ones that immediately spring to mind. As for sitcoms featuring lesbians, bisexuals, or anyone else who could be classified as LGBTQIA+, there are even less or them. So, it was nice to get a media release last month about Ding Dong I'm Gay:
Launching today is the new queer-positive web comedy, Ding Dong I'm Gay, created by award-winning writer Tim Spencer and directed by Sarah Bishop of Skit Box and Wham Bam Thank You Ma'am. Offering new, exciting and entertaining LGBTQIA+ content for an online audience hungry for positive and diverse stories, Ding Dong I'm Gay dives into the fantastical realities of bad sex, unwanted house-guests, the queer experience and hostile first-aid instructors.
Ding Dong… episode one introduces Cameron (Tim Spencer), an out gay man living in Sydney with paranoid Chinese student Sweetie (Alex Lee), who suddenly finds himself having to put up cousin Toby, who's just arrived from the country. Assuming Toby is homophobic, Cameron initially hides his sexuality, but then Toby reveals all: he's gay too.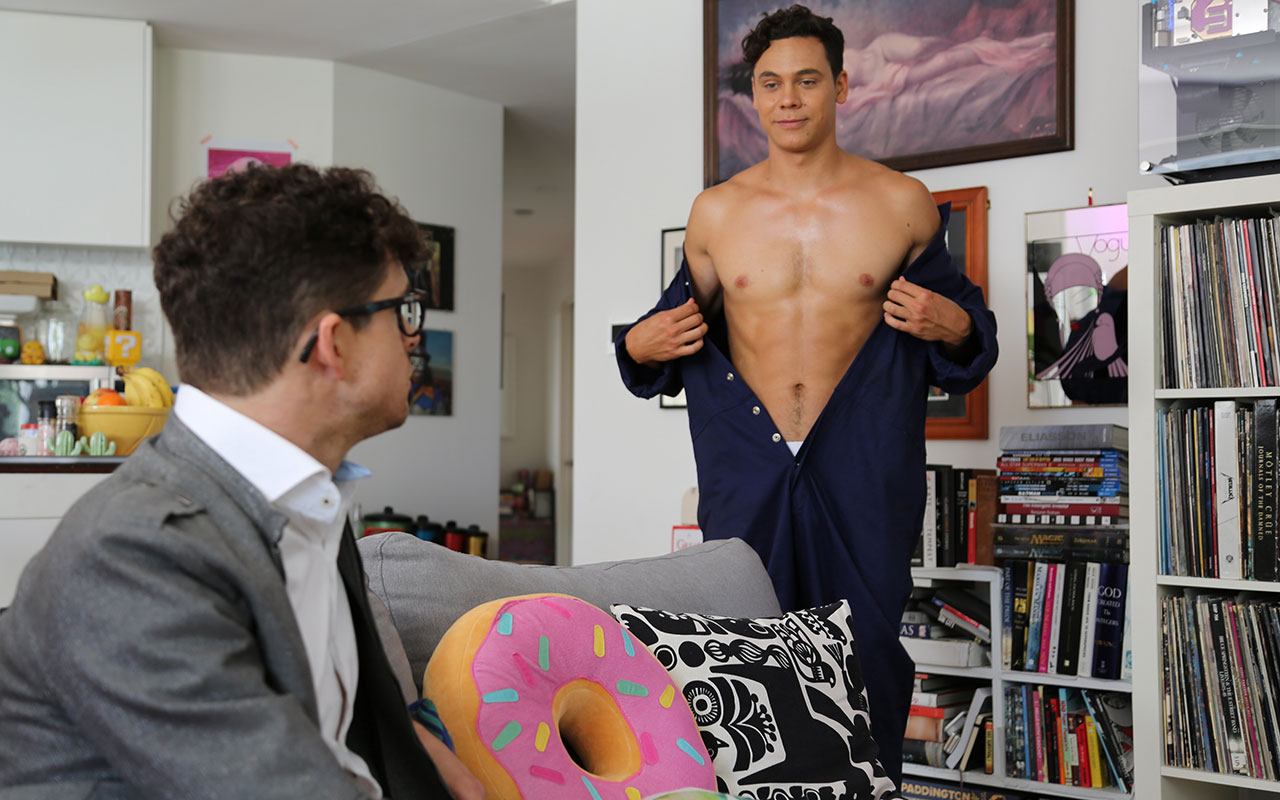 What follows are two further episodes showing Cameron inducting Toby into Sydney's gay scene. We see Cameron give advice on what is and isn't appropriate wear for a twink film festival, and Toby learning about the gay scene on Instagram and how he can get free stuff.
There's some promise here – and we'd like to see more – but it's difficult to judge this show on three episodes, which altogether last about 10 minutes. And with most of the screen time in these episodes given to Cameron and Toby, it's a bit hard to work out what the deal is with Sweetie, other than that she's paranoid and a bit violent, and what roles, if any, pregnant neighbour Lucy (Sarah Bishop) and boyfriend Jack (Rupert Ranieri) will play in this story.
Still, it's nice to see some different stories being told, and more episodes are on the way:
The planned series will continue to follow the loveable Ding Dong I'm Gay characters as they navigate the potholes and politics of the contemporary queer scene.
The first three episodes of Ding Dong I'm Gay are on YouTube.