While we were noodling around on SBS On Demand the other day, we came across some of the pilot shows from Comedy Runway, a 2014 SBS comedy pilot scheme that we'd completely forgotten about. And because some of the shows are about to disappear from SBS On Demand quite soon, and we've never reviewed them, and a couple of them feature comedians who are currently doing quite well for themselves, we figured we should take a look…
Fully Furnished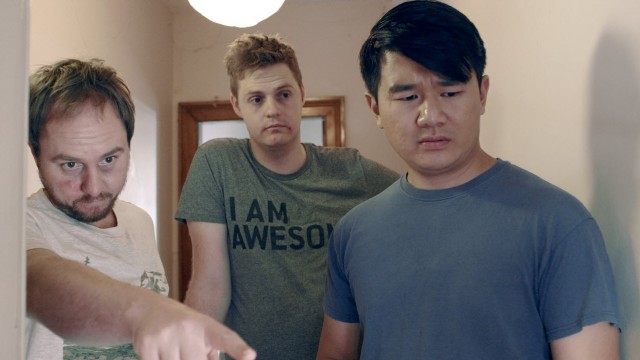 When Dayne and Todd (Tonightly's Tom Ballard and The Little Dum Dum Club's Tommy Dassallo) lose their housemate because they're so awful to live with, they advertise for a new one. Answering their ad is Malaysian business student Ronnie (Ronny Chieng from The Daily Show with Trevor Noah and International Student) who, short on funds, turns his new home into a laundromat. Finding the house suddenly full of people and laundry, Todd fights back by opening a rival laundromat in his room…and things just spiral from there.
If this seems slightly like Ronny Chieng International Student, that's because it is; this is the comedy of things getting more and more ridiculous, with a Malaysian student right in the centre of it all. That said, it's a very different show with completely different writers, and nowhere near as clever.
Part of the problem is that most of the characters are pretty dislikeable, particularly Todd, who makes racist remarks about Ronnie and describes the laundromat customers as "low breeds". Fair enough, he's a parody of an awful guy in his 20s, except, for the parody to work you'd have to be able to laugh at Todd, and the script isn't clever or funny enough to make you do that. So, Todd just comes across as the massive racist arsehole.
Having said that, Fully Furnished is one of the better shows from to come out of this scheme – it's inventive, there are lots of potential plots, and parts of it are funny.
Apocalypse Events
Carlos and his gang might look like hitmen or kidnappers, but they're actually corporate team-building day facilitators. Trust exercises? Nah, boring. The way to sort the wheat from the chaff in the business world is to subject an executive team to a terrorist siege, or to hood them, drive them out into the bush and make them fend for themselves. There are some funny moments in this, like when Carlos and team burst into a client's office wearing balaclavas and toting guns and the bored receptionist asks them to sign in…which they do. Problem is, there's barely enough in this idea to sustain a six-minute sketch, let alone a series. Still, nice attempt.
Dog Squadron
This is more cute than funny. Imagine if the famous air battles of World War 2 were fought by dogs, with the RAF squaring off against, wait for it, the Luftwoofe, whose squadron leader is, wait for it, General Woofenstein. And that's the extent of the comedy in this.
Heaps Good Hostel
When English backpacker Byron checks in at an Adelaide backpackers', it isn't immediately obvious that he's a vampire. And when permanent resident Finegan works out that he is, hostel staff Jaz and Sam don't believe it and don't care. There's not a great deal of hilarity here, apart from a reworking of this old gag: "I banged that French chick last night." "Where?" "In the vagina."
Nulton
This is a sort of mash-up of The League of Gentleman and the Beaconsfield mine disaster, except it's a bunch of weird locals trying to help a trapped Dutch backpacker. You want rural grotesques? This has lots of them. Although, sadly, none of them are particularly funny.
Looking Back – Dack Attack!
Fictional nostalgia programme Looking Back looks back at fictional 90s TV favourite Dack Attack! in which rugby hall of famer Darren Tackle (Greg Larsen) went up to people on the streets and dacked them. This is a fairly solid parody of 90s entertainment shows and features a lot of high quality dacking. And who doesn't find dacking hilarious? Problem is the whole thing is slightly too drawn-out to be really funny, and while this concept could have made a decent series, let's face it, Greg Larsen's gone on to bigger and better things and that's a good thing.
There's one more Comedy Runway show currently available on SBS On Demand, and that's Suspect Moustache, but as there are five episodes of that we're going to review that in a separate post.