Hamish & Andy are back! Okay, they never really went away, especially if you're one of the three people still listening to commercial radio of your own free will. But it seems like the duo's popular brand of pranks, stunts and mirth-making will soon be returning to the small screen:
Hamish & Andy have signed a new deal with Nine for an unnamed 2017 series from their production company, Radio Karate.

Details of the new series, understood to not be another Gap Year series, are being kept under wraps for now.

The news follows suggestions the duo might be headed to Seven.

Michael Healy, Director of Television at Nine, said: "Hamish and Andy are unique talent in Australia and we're privileged to enjoy a longstanding relationship with them. The Radio Karate team have now created a bold and exciting new concept that we're excited to bring to the Nine audience in 2017."

The comedy duo are currently on a South Pacific cruise as part of their radio show.

"We are rapt to be continuing our journey with the Nine Network and we're going to spend the rest of the cruise working tirelessly to invent a new cocktail to celebrate the occasion," said Blake.
"Currently on a South Pacific cruise as part of their radio show"? Makes a change from the days when Martin / Molloy operated out of a shed on the roof of Triple M.
We don't usually do this, but here's a recent photo of the much-loved comedy duo: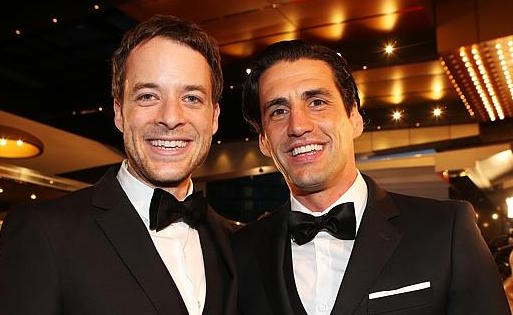 Do they look like the fresh young faces of Australian comedy?
We're not having a go at them – seriously, it's not like The Logies brings out the best in anyone – but they're now guys in their mid-30s who've been doing their "wacky young dudes piss-farting about" act since 2004. And every time they've tried to move into something different (Real Stories, the first couple of talk show-esque episodes of the first run of Gap Year) audiences and executives alike have shoved them firmly back in their box.
On radio this kind of forever young career makes sense. Despite the seemingly set-in-stone requirement that all radio shows must have an attractive blonde to put on the posters, appearing on radio remains a very good way to hide wrinkles. But on television there's only so much make-up can do (once real-time digital smoothing is available though, all bets are off). And if you don't plan out your next step very carefully… well, there's a big gap in the current media profiles of James Valentine and the one-time hosts of Cheez TV.
So while we're glad to hear that whatever they do on Nine won't be another Gap Year, we're also realistic: Gap Year-style antics are what has made them stars, it's what they've been doing on television for over a decade, and there's very little doubt that the chiefs at Nine would be looking for more Gap Year-style antics no matter what their show is called. Working on commercial radio doesn't really give them much room to change or grow: hopefully when they return to television they'll have a few new tricks up their sleeves.